Aliyah Bet & Machal Virtual Museum
North American Volunteers In Israel's War of Independence
Pictorial History: Air Force Volunteers
Only a handful of Palestinian Jews had military pilot training. Veterans from World War II – primarily from the U.S., Canada, England and South Africa – manned the hodgepodge of German, American and British aircraft to stop the Arab air and ground attacks.
Since England would not admit Palestinian Jews into the Royal Air Force for aircrew training until 1943, pilots, navigators and other flying personnel with military experience were in short supply. Israel turned to the Diaspora – primarily to the U.S., Canada, England, and South Africa – for veteran flying crews who could help stop the Arab invasion on the ground and in the air. More than half of all American and Canadian volunteers served in the air force.
Eddy Kaplansky, an authority on the IAF during the 1948-49 war, concluded: "It is generally accepted that without Machal the nascent IAF would not have been able to fly its heavy bombers and transport planes, nor could it have wrested control of the skies from enemy air forces. It may well be, therefore, that the participation of Machal in the IAF is what tipped the scales in Israel's favor in the War of Independence, whose outcome hung precariously in the balance."
Group of men in front of B-17
A Heavy Bomber for Israel
This group of men, almost all Machal, are shown in front of their B-17 shortly before it took off for Israel from Zatec airport in Czechoslovakia in July 1948. It was one of three B-17s that had come from Miami. They remained the only heavy bombers in the Israeli Air Force for the duration of the war.
Top Canadian Ace
George F. "Buzz" Beurling, shown painting a "win" on his Royal Canadian Air Force spitfire, was the top Canadian air ace in World War II, with 31 Nazi planes to his credit. He was one of 34 Christian pilots from the U.S. and Canada to volunteer for the IAF. Beurling, 26, and his Jewish co-pilot, Leonard Cohen of England, were killed while attempting to ferry a plane from Italy to Israel on May 20, 1948.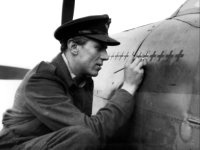 German/Czech Me-109
German Fighter Plane for Jewish Air Force
Ironically, Israel's first fighter plane was the famed German fighter Messerschmitt ME-109. The Czech's sold 25 of its own version of the fighter to Israel. It had a bomber motor, making it very unwieldy to fly and land. Many of the planes crashed shortly before or after arriving in Israel. The Czechs then sold Israel Spitfires they had obtained from England. This was a much better fighter.
Rudy Augarten
American Ace
Rudy Augarten, 26, a Harvard student when he volunteered for the IAF, stands in front of a crashed Egyptian spitfire. Augarten had downed two German ME-109s while flying a P-47 during World War II. He shot down four Egyptian aircraft while flying a Czech ME-109, a British Spitfire and an American P-51. He was one of only six Americans awarded "ace" status by combining victories in two wars. Augarten returned to Israel in 1950-52 to become commanding officer of Ramat David Air Force Base and IDF Flying Courses.
Spitfire
Flight Log
Destination Cairo
This page of a flight log kept by flight engineer Bill Lichtman, 30, of New York City shows that the B-17 took off from Miami on June 19, 1948. After refueling stops in Puerto Rico and the Azores, it landed in Zatec, Czechoslovakia, on June 20 to be refitted with guns and bomb racks. It took off from Zatec on July 15 with a full bomb load, and on its way to Israel detoured for a bombing mission over Cairo. This was the first and time an Israeli plane bombed Cairo in 1948. This raid essentially put a stop to the daily bombing of Tel Aviv by the Egyptians. Pilot of the B-17 was Ray Kurtz, a former New York City fireman. Both Kurtz and Bill Lichtman were World War II veterans.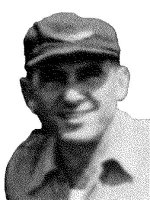 Ray Kurtz
Bill Lichtman
Israeli Parcel Service
Some 16 of these Canadian-designed Noorduyn Norsemans were purchased as war surplus in Germany, and refitted with long-range tanks by KLM airlines in the Netherlands. Machal pilots flew 10 of them non-stop from Rome to Israel in the first weeks of the war. It was a grueling 11½-hour journey. The large, single-engine planes supplied Dead Sea and Negev outposts, and even flew as improvised bombers.
Row of Norseman aircraft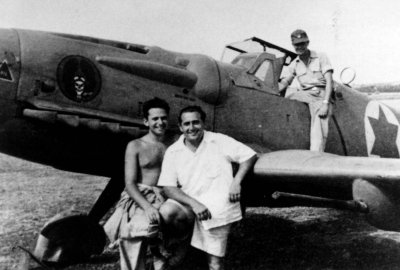 Three Americans Who Flew A German ME-109
Israel's only fighter planes in the first few months of the war were 10 S-199 Aviahs (the Czech version of the famed German Messerschmitt ME-109). Shown with this Avia are, left to right, Gideon Lichtman, 24, Newark, New Jersey, Bill Pomerance, 26, also of Newark, and Leon Frankel, 24, St. Paul, Minnesota. Gideon Lichtman was the first Israeli Air Force pilot to shoot down an Arab fighter plane. Pomerance was one of the few U.S. pilots in World War II to down four enemy planes in one day. Frankel won the Navy Cross, the U.S. Navy's second-highest medal, for sinking a Japanese cruiser while flying a torpedo bomber.
Cub Bomber
Piper Cubs go to War
Piper Cubs provided a host of different services. They served as observation planes in battle, ferried medical supplies to isolated kibbutzim, and dropped mail and newspapers to front-line troops. Machal instructors also used them as trainers for Israeli student pilots. A line of Piper Cubs is shown at the St. Jean student pilot airfield near Acco. (Note the bomb racks on the belly of the Piper.)
New Generation of Pilots
One of the first Israeli graduates of the flying course, Shaikey Gazit, receives his wings from Lt. Gen. Yaacov Dori, first chief of staff of Israel's armed forces.
Machal Ground Forces
Volunteers brought important specialized skills to the fledgling Israeli Air Force – among them aerial photography, radar operations, and aircraft maintenance. Shown here are Machal volunteers exercising control room skills learned during World War II service.
Freight to Win the War
The Curtiss-Wright C-46 Commando could be called the plane that saved Israel. Ten of the huge planes were bought as war surplus in California. They were sent to Panama as part of the dummy "Lineas Aereas de Panama" (Panamanian Airlines) fleet, and then flown to Czechoslovakia. With Machal pilots serving in Israel's Air Transport Command, they became the freight trains that shipped Czech arms, ammunition, and even disassembled aircraft to beleaguered Israel.
Curtis-Wright C-46 Commando
Harold Auerbach
Hal Auerbach, 33, a Navy pilot in World War II, flew heavy transports in 1948 on their various journeys to Panama, Czechoslovakia, and Israel. A native of Escanaba, Michigan, he is shown with a DC-5. The crew drew a Star of David with wings on the nose and named the plane "Yankee Pasha, Bagel Lancer."
The Czech Connection
A little-known story of the Arab-Israeli war of 1948 involved American planes, mostly-American pilots and the decision of one small country to help another.
After approval of the Partition Plan in November 1947, England continued to supply weapons and ammunition to its client-states Egypt and Trans-Jordan. But virtually the entire world imposed an embargo on sale and shipment of military equipment to Israel-except Czechoslovakia, which agreed to sell a substantial amount of German-designed rifles, machineguns, ammunition, and even fighter planes to the Jewish state
But Czechoslovakia was land-locked, surrounded by countries that would not allow transshipment of arms in violation of the embargo, and more than 1,800 miles from Israel. With a chartered C-54 and seven of the C-46s originally purchased as war surplus in California, Machal pilots and crews in the Israeli Air Force Air Transport Command began an airlift that would become one of the miracles of the War of Independence.
1,800 very, very tough miles, Zatec, Czechoslovakia, to Israel.
For more than three months-May 1948 to August 1948-Czechoslovakia loaned Israel its Zatec air field. It become virtually an Israeli installation and was used for refitting planes, training pilots, and shipping point for guns and ammunition. Pilots and crews of planes utilizing the airfield stayed at the Stalingrad Hotel in Zatec. (Shown at left of photo is Bill Lichtman, a crew member of a B-17 being refitted at Zatec).
Czech-made ME-109 fighters were taken apart, loaded into C-46s (it took two C-46s to carry the pieces of one ME-109) and flown to Israel, with one refueling stop in Corsica. The first ME-109 arrived in Israel on May 20, 1948. It was immediately re-assembled, and within one day attacked Egyptian troops nearing Tel Aviv. By the time the Czechs closed Zatec to the Israeli armed forces, Machal volunteers in the Air Transport Command had completed 95 flights, carrying 25 Me-109s to Israel and an incredible 35 tons of arms and ammunition, including more than 15,000 rifles, 4,000 machineguns and 3 million rounds of ammunition.
C-46 over Haifa Bay
Eddy Kaplansky. A native of Montreal and a veteran of the Royal Canadian Air Force in World War II, Eddy was both an Aliyah Bet crewman (Northland\Jewish State) and a Machal pilot in the Israeli Air Force during the War of Independence. A resident of Haifa, Eddy provided research and advice on most of the panels in this display. He wrote the entire article in this section on the history of the Air Force volunteers, and compiled the photos and text for the section on the 40 men who died in the service of Israel. Eddy wrote the definitive book on the early days of the Israel Air Force, "The First Fliers" (Israel Air Force Historical Branch, 1993), and meticulously named every Canadian who served in Machal. Eddy died in Haifa on March 6, 2005, while corresponding daily with the Gainesville production crew of the Museum of American and Canadian Volunteers in Israel's War of Independence, located in the main hallway of the University of Florida's Hillel building.
Eddy Kaplansky
Back to An English-Speaking Air Force